Entropay Casinos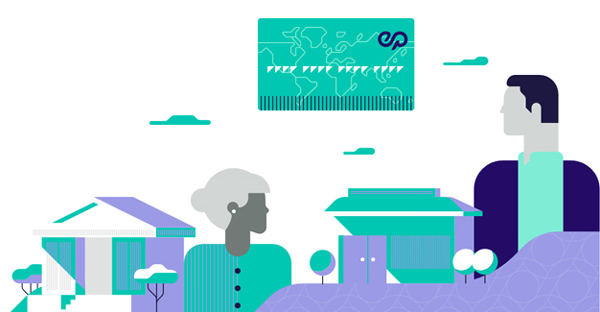 When the money transfer service was established in 2003, it was the first of its kind in Europe. It is designed as a virtual Visa, meaning that the company operates on the Visa network. The idea behind the e-wallet was to create a transaction platform that made it possible for individuals to see and receive money regardless of their creditworthiness or location. With this virtual card, you have prepaid funds to spend as you wish. Because you buy the card from an independent outlet, your credit history doesn't come into play here. Payments through the virtual card are fast because the financial institution doesn't have a lot of information to process.
Ixaris Systems owns the electronic prepaid card. The company is FCA regulated, meaning that it has to abide by a strict set of rules. Due to its association with Visa, a lot of merchants now accept the virtual card. Most of the online casinos that accept Visa will also allow a player to deposit money from an Entropay account. The bank of Valletta is responsible for issuing the cards, so users can count on their credibility and quality. Over time, the financial services company and increase its offerings and become one of the top payment options at online casinos. This Entropay review will look at some reasons for that.
How does it work?
As a virtual prepaid card, it means that you get to use it as a traditional card except it isn't linked to any bank account. Various outlets across the world sell the prepaid card, and you can buy one is the denomination you need. Before heading out to find an outlet, you have to create an account first. This account is where your funds will appear after buying the digital card. A buyer doesn't have to go through a credit check or the rigorous inspections that come with conventional payment methods.
You only have access to the amount that you have preloaded onto the card. The virtual cards are set in several denominations, so you can preload your account with the required bankroll and avoid overspending. Once you have your account, you can use the e-money card in any casino that accepts it. Just go to the casino's cashier and pick the payment mode and the amount. You will need to give the card number, it's CVC code, and validity date. The money will be deducted automatically.
Entropay Information
Company Name
Ixaris Systems Ltd
CEO
Aran Brown
Established
2002
Located
52 Grosvenor Gardens
London SW1W0AU, UK
Support
FAQs
Regulated
Financial Conduct Authority (FRN:900800)
Users
1.5 mil
Website
www.entropay.com
Why should I use it at Online Casinos?
An Entropay account offers a few benefits when depositing funds at online casinos. For one, you don't have to give credit card information to the casino. Online gamblers are always faced with the threat of losing their data to bad elements. The risk is even higher when you play at multiple entertainment sites. With a virtual card, you only need the account to manage your transactions, and only the money transfer service has your credit card information when you make deposits.
It is a stress-free way of making sure that a playing account has the bankroll it needs for a gambler to enjoy. Imagine finding the perfect online casino with an attractive bonus and all your favourite games, but you have to wire the money from your bank, which takes more than one step and maybe an hour before the money is available. With a virtual card, you just authorize the transaction and 30 seconds later your playing money is ready.
This payment mode offers a bit of control over your gambling spending. The downside of a credit card is that you can easily spend money that you don't have. A prepaid card only allows you access to the money that you have deposited. You can easily set a budget and load the card with the predetermined amount. When your bankroll runs out, you knew it's time to quit.
Which online casinos offer this payment method?
From Microgaming to NetEnt, many top casinos offer this virtual wallet as part of the banking solutions. The financial service has built a solid reputation that has made it a preferred choice of funds transfer for online users. Whether you prefer slots games or table games, US players can find online casinos that allow deposits and withdrawals with the virtual card.
Entropay mobile Casinos 2019:
Is it safe to transfer money with Entropay?
Transactions are secure when using this prepaid card because the company has implemented basic security measures to guarantee it. Your Entropay sign in details and other information that is exchanged on the platform is encrypted, and the platform uses key rotation to improve security. For data management, the company has two separate data servers to store client information, which provides backups in case of damages or loss. The enterprise complies with PCI-DSS Level 1 standards to ensure the protection of information.
What is its transfer times?
This money transfer service has some of the best rates on the industry. 30 seconds after putting funds in your playing account, you can start using them. As long as the virtual card has enough money for the bankroll that you need, then no issues should arise with the transaction. Withdrawals are available in an hour or two, which is still better than most of the traditional banking solutions.

Customer Support
Entropay support is available 24/7, so US casino players can get help whenever they need it. Urgent cases are resolved better by calling the phone support because then you can explain clearly to the agents who are friendly and know the product. Alternatively, you can write an email or post on a social media page. You are guaranteed of a faster response on social than email, though. Unfortunately, the platform doesn't have a live chat service, which is a downside for a company that has been online for such a period. Customers have some FAQs that they can turn to for the more common challenges like account maintenance fees and using the Entropay app.
Advantages:
Simple to use method to
Safe transactions because you don't provide casinos with credit card data
Fast transactions
Doesn't affect credit history
Disadvantages:
Charges apply when depositing money into the payment account
Fees for withdrawing from casinos
Some casinos will accept deposits but not withdrawals with the payment method
Do players get a welcome bonus?
Welcome bonuses are common offerings, so yes; you can find one when using this payment mode. The size of the welcome package will vary from casino to casino, but most will have 100% matching funds and free spins.
FAQs
What is the process of creating an account?
Online casino customers who prefer this money transfer service don't have to jump through a lot of hoops to create accounts. You begin with the "Sign Up" button, which is set at the right-hand corner of the homepage. A registration portal will come up, and you have to submit the requested details. You then create the Entropay login password and proceed to set up the account. Email verification is necessary before activating the account. You are now ready to put money into your account via a virtual card.
Is it free?
Setting up an account doesn't incur any charges on the platform. Receiving money is free as well. However, some Entropay fees apply when depositing money into the account. If you are topping up using a debit/credit card, the charges start at 1.00%. For account holders who want to withdraw to their banks, the fees range from £1.49- 7.99.
Is this payment service available at all online casinos?
No, not every online casino will allow players to deposit funds using this virtual card. Even though the prepaid card is a sort-of Visa affiliate, you will find casinos that accept Visa credit and debit cards but not Entropay payment. It is why a gambler should visit the banking page of a casino first to see what options it provides.
How much do I need to deposit?
The virtual card is available in various denominations, $10 being the least. The minimum that you decide to put in will depend on how much the casino requires. This money transfer service allows a user to have unlimited cards, so your account can have as many as 15 cards if needed.
Are there fees for depositing and withdrawing at online casinos?
No, depositing money into a casino from your Entropay account doesn't come with any charges. The platform, however, charges transfers from online merchants to account holders. It means that when you withdraw money from a web-based gambling site, a fee of 1.95% applies.
Which online casinos offer this money transfer service?
Gamblers have a host of online casinos where they can use this money transfer service to fund their accounts. The payment mode is restricted in some geographical locations, so US players should consider that, especially when gambling is on the move. Some casinos to check out include for example:
Welcome to Entropay