PayPal Casinos

For a person planning to use a PayPal account when gambling online, it helps to understand more than just the basics of the payment method. The service is a web platform that lets account holders send and receive money. Businesses and individuals can use the service for all kind of transactions. You can transfer cash to a person or an enterprise like an online casino. The platform works as a virtual wallet, meaning that you can load cash into your account and shop directly with it.
Users can withdraw money as well, so you can cash out casino winnings into your PayPal wallet then access it from there. The question "what is PayPal" is an essential one for anyone who is using the service for the first time. The financial institution was established in 1998, and since then, has steadily increased its market share. Over 150 million accounts use the platform for financial transfers, and the numbers keep growing. In almost two decades of money transfer, the platform has grown its offerings to cater to the evolving demands of its customers like a mobile app.
How Paypal works?
Before you can select this payment option on a gambling site, be sure you can answer the query, how does PayPal work? Opening an account on the platform is easy, taking only a few steps and some basic information. Besides the mailing address and identification details, the PayPal sign up process requires you to link an account. You can deposit money into this account from the digital wallet and vice versa. Account holders can also link debit cards to the virtual wallet. Although the sign-up process may not demand banking information, linking a credit card or bank account is a verification requirement. The company verifies that a user's banking details are valid by asking for payments from the attached account. These transactions are usually small and refundable.
The process of making payments to an individual or business is easy. You only have to navigate to the "Send Money" section by clicking a button on the home page and follow the prompts. The service gives you the option of attaching a message with a transaction. Anyone with an email address can receive money from the platform, but then, an account is required to access it. When transferring money, you have the option of personal or commercial payment. A personal PayPal payment doesn't incur any charges. However, the transaction has to be from the user's account, paying with a credit card comes with fees for the recipient. If the transaction is commercial, the platform charges a percentage. An account holder should clarify these figures before completing a transaction.
Why use PayPal at Online Casinos?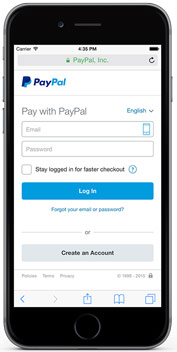 So, you have an idea of how to use PayPal but is it suitable for your online casino activities? Credibility is one of the biggest motivations for picking this payment method over its alternatives. The millions of users that the company serves are a testament to the legitimacy of its offerings. Fraud is a big threat for online gamblers as illicit wallets take advantage of the growing need for web-based transactions. PayPal is severely strict with the merchants that it agrees to work with. Businesses have to meet some requirements, and that provides guarantees for the customers. The payment company checks the registration and licensing of casinos before it offers its services.
Convenience is another reason this e-wallet suits online casino money transfers. The beauty of web-based gambling sites is that you can play from anywhere. With online payment and deposit methods like a PayPal app, you don't have to fret about going anywhere to access your money. The platform is convenient because it accepts multiple currencies (about 26). It means that US players are not limited to just USD, which opens up many opportunities. Account holders have the flexibility of using the mobile app to deposit money. Mobile casinos are exceedingly popular and being able to fund an account straight from your hand-held device enhances the experience.
The PayPal wallet may be simple to use, but customers have to undergo a few verifications. As for casinos, the platform only deals with licensed businesses. The security, customer service, and reputation of a casino are some elements that the payment company looks at when considering a partnership. For this reason, not every casino qualifies. Online gamblers have to check with a specific casino to see if it offers the payment mode.
Is Paypal a safe payment method?
Yes, whether you are using the PayPal app or desktop version, you can expect safe transactions. When the platform was starting out, fraudsters manipulated the system, but the company took serious measures to prevent repeat incidents. The company uses the Gausebeck-Levchin test to ensure that every credit card that is linked an account is valid. During the PayPal sign up process, a new user has to enter a CAPTCHA to make sure that it is not a computer program. Then, there are the verification processes that the company has for merchant and personal accounts.
The platform has programs that evaluate each PayPal login to check for fraudulent activity. For instance, signing in from multiple devices can get your account restricted, preventing you from making transactions.
PayPal Support
Several PayPal contact options are available to customers who need assistance with various issues. A support phone line is listed on the help page and is perfect for urgent matters. The response time is approximately half a minute, and the representatives are well informed. There is a message centre that allows communication with the financial institution directly from your account. Any electronic mail correspondence from the company is delivered to the message centre, which reduces the risk of falling prey to fraudulent communication. A comprehensive FAQ section on the site covers a broad range of topics from account setup to PayPal fees.
Pros
Secure funds transfer
Fast transactions
Flexibility with currencies
Cons
Restricted in some regions
Some online casino don't allow PayPal withdrawals
Stringent requirements
Frequently Asked Questions (FAQ)
1. How to set up a Paypal account?
Opening an account with this money transfer service takes a few minutes. Once you enter the PayPal website, click the "Sign Up" button to begin. Fill the form with basic personal data, including the full name, address, and identification. Note that the email used for your PayPal account should be the same one on other financial documents like bank statements. The financial institution has procedures for verifying that mailing addresses are valid. Once you are finished, use your PayPal sign in credentials to access the account and browse some of its features like transaction history. Don't forget to go through the user agreement and other policies before completing the sign-up.
2. Is Paypal free?
Creating an account on the online money service doesn't cost you anything. Users don't have to worry about account maintenance fees as with other traditional payment options. However, you may have to pay some fees when depositing directly from the platform.
3.Can I yse this payment method on all online casinos?
No, not every casino will accept this payment method. Always check the payment section of a gambling site to see if it's a PayPal casino. Note that the money transfer service is not available in some countries. Therefore, online casinos that are based in these regions may not offer the payment option.
4. What alternatives are available for US players?
The PayPal app may be a simple way to fund players' accounts, but US players have other alternatives that they can turn to. The traditional bank transfer is a safe way to deposit cash into a casino. If a player prefers digital wallets, Skrill, Neteller, and Paysafecard are suitable options. Almost every online casino accepts credit and debit cards like Maestro, Visa, and MasterCard.
5. How much is the minimum deposit?
The least you can fund a casino account from the PayPal website will depend on the gambling outfit. A majority of casinos will require $10-20 as a minimum deposit. Check with the casino first before you can fund your playing account.
6. Are there any fees for withdrawals and deposits at a PayPal Casino?
Most online casinos don't charge customers fees for funding player accounts. However, a PayPal payment can be charged because it is a commercial transaction. An account holder may have to cough up a fee of 1.3%. Betfair, for example, imposes a 1.5% fee on all deposits made through this platform. Cashing out winnings form an online casino may incur dome charges, depending on the gambling service. The payment platform, however, doesn't have fees for money coming into the account.
7. At which casinos can you find fhe payment method?
The demand for legitimate online payment methods has more casinos offering this service for deposits and withdrawals. Some of the casinos where you can transact with the provider include:
Spin Palace
Betway
Ruby Fortune
JackpotCity
Gaming Club
Betfair
Will Hill
Paddy Power
Eurogrand and many more