Betsoft ToGo
Don´t worry, Betsoft ToGo is not referring to a new island or area in Africa. In fact, it is actually the mobile gaming platform developed by BetSoft. This gaming provider of online casino and gambling software's has recognized the developing trend in the mobile segment and went live with their mobile gaming platform for mobile casinos in 2012. In our follow text we will take a deeper look into what Betsoft has to offer.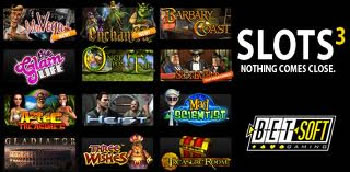 Betsoft is considered to be one of the smaller players in the pound of big suppliers within the segment of virtual gaming. Their offering of casino games is therefore a bit less comparing to the other large suppliers. Although being smaller and having fewer games, they are still one of the most popular gaming suppliers with their 150 different casino games. The main competitors to Betsoft such as Micro Gaming, NetEnt and Playtech Mobile offers hundreds of different online slots and casino games, so Betsoft still has a gap to fill before they can give the large suppliers a run for their money, but they are well on their way.
Moreover, at the same time Betsoft has taken a solid position as a popular provider of casino games thanks to their attractive versions of the classic casino games. Below you will find below the latest offers from Betsofts mobile casinos, as well from their online casino-, poker online-, virtual horse betting platforms. A Interesting concept created by Betsoft, and very popular one, is their Betcafe, which enables a larger group of people to play at the same time at the same location, for example at an internet café.
The Betsoft ToGo Software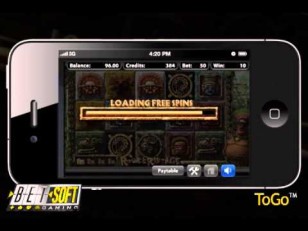 The ToGo Betsoft software is visually more or less the same as the Betsoft casino software, which you will find when playing their casino games on your computer. What simple differentiate them, is that the ToGo product is developed to be optimized specifically to fit your smartphone, tablet and mobile phone. This might sound like a easy implementation, however we can assure you that the developers at Betsoft has spend tireless amount of hours to make the application possible.
As the more experienced casino players might know, the most important element of the slot machine is their "wheels". The "wheels" is what you will see spinning with the different symbols. To fit the slot wheels in attractive way on a smaller screen for the mobile phones, than the normal computer screen, is a true challenge, hence the very limited space available that is available for both the buttons and wheels from the slot machine. Baring in mind also that you now don´t have the easy movement from a mouse, but instead might need to use your chunky fingers. A few sessions of playing will however make you well used to the new gaming environment and how to place the bets in best way.
In short, it is a quite technical challenge to implement online slots for smartphones. However, Betsoft has managed to do this process quite well in an attractive and functional way. Here the developers have not only put the focus on the most popular games for the mobile device, but also the overall experience using the mobile app from Betsoft. Their mobile platform with the different ranges of games is primarily optimized for Apple iOS and Android.
Casino Games offerings at Betsoft ToGo mobile Casinos
The listed casino games below, shows you a brief overview of the games that Betsoft has to offer on their mobile casino platform. Although, that Betsoft introduced their ToGo version already in 2012, there are still a good amount of casino games that are not yet available on the mobile gaming platform comparing to the casino games available on the computer software version. However, Betsoft are continuously striving to offer same games on mobile device as they offer on the computer version, so from time to time there will new releases of the most popular games availed on computer also now then on mobile device.
Latest casino games offered on mobile by Betsoft: Good Girl Bad Girl, The Curious Machine, Madder Scientist, Lost, Pully Love, Gladiator, The True Sheriff, True Illusions, Greedy Goblins, A Night in Paris, Tycoons, Under the Bed, Rook's Revenge, Boomanji, After Night Falls, At the Copa, Safari Sam, Mr Vegas, Three Wishes, The Slotfather, Lucky 7 and of course classics such as Roulette and Blackjack.